An initial coin offering (ICO) for a project called CoinDash was abruptly halted the day of their ICO when it was revealed that they were hacked, resulting in someone changing the wallet address to their own. In total, the ICO was able to raise $7.53m before the ethereum address it was using to solicit funds was altered to a fake one by an unidentified hacker, resulting in the ether going to another source.
At the time of publication, the CoinDash website has been shut down, and the project is asking investors who have been affected to submit information to the provided link to collect the CoinDash token (CDT) they should be rewarded through the sale.
In a statement published in the company's Slack channel, Coindash said that it "suffered a hacking attack" where an "unknown perpetrator" or hacker "maliciously placed" a fraudulent ethereum address on its website.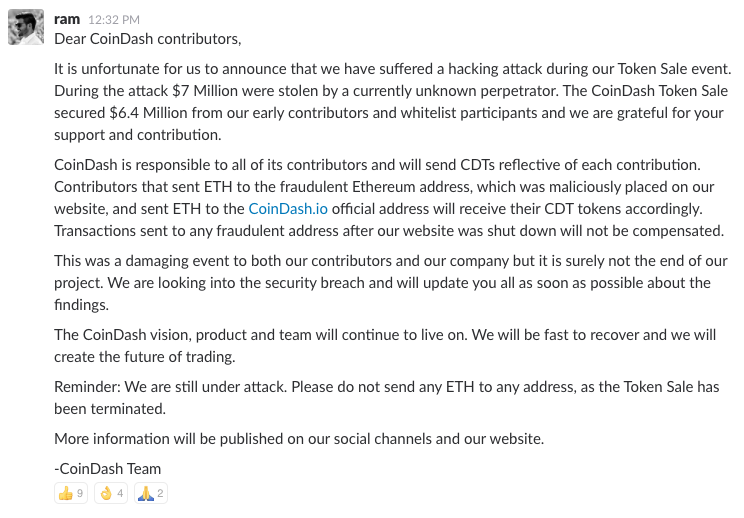 At the time of writing, would-be investors have sent 43,438.45 ether (around $7.4 million USD at the current exchange rate) to the Coindash address that the company says belongs to a hacker. Etherscan, a web tool for tracking ethereum transactions, is warning that "there are reports that the Coindash Crowdsale address has been compromised."
"All we know now is that an outside attacker changed the address right after the sale started," Ram Avissar, the marketing director of Coindash, told Motherboard via Slack. "We have halted the Token Sale contract and trying to understand the best way to compensate those who were affected."